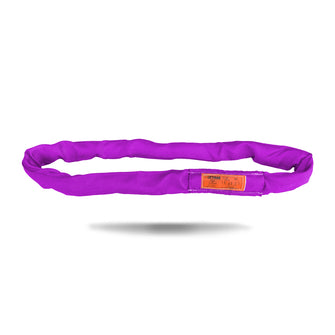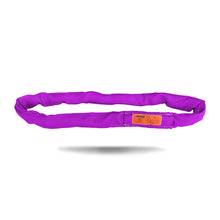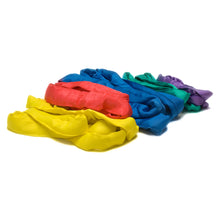 LERS1 - Purple Endless Round Sling - 2,600lb Vert.
Liftgear Purple Endless Round Sling
Liftgear Round Slings offer the user the ultimate in lifting security and rigging ease. Round slings are constructed from a continuous loop of 100% polyester fiber and covered with a double polyester woven jacket to protect the load-bearing fibers from damage. Because the load-bearing fibers never come in contact with the load, they are protected from cuts, abrasions and ultraviolet degradation.
Features:
Tagged & Serialized

Easy handling and storage
Working Load Limits: Vertical: 2600, Choker: 2100, Basket: 5200
Download: Technical Data Sheet 
Part
Color

Part
Number

Vertical

Choker

Basket

Minimum
Length

Approx.
Diameter

Approx.
WT / FT

PURPLE

LERS1


2,600

2,100

5,200

1 ½'

1 ½''

0.3 LB

GREEN

LERS2


5,300

4,200

10,600

1 ½'

1 ¾''

0.4 LB

YELLOW

LERS3


8,400

6,700

16,800

1 ½'

2 ¼''

0.5 LB

TAN

LERS4


10,600

8,500

21,200

1 ½'

2 ¼''

0.6 LB

RED

LERS5


13,200

10,600

26,400

1 ½'

2 5/8''

0.8 LB

WHITE

LERS6


16,800

13,400

33,600

3'

2 5/8"

0.9 LB

BLUE

LERS7


21,200

17,000

42,400

3'

3 ½''

1.3 LB

ORANGE

LERS8


25,000

20,000

50,000

3'

4 5/16"

1.6 LB

GRAY

LERS9


31,000

24,800

62,000

3'

4 5/16''

2.0 LB

ORANGE

LERS10


40,000

32,000

80,000

3'

4 ¾''

2.6 LB

BROWN

LERS11


53,000

42,400

106,000

5'

5 ¾''

3.4 LB

OLIVE

LERS12


66,000

52,800

132,000

5'

5 ¾''

4.3 LB

BLACK

LERS13


90,000

72,000

180,000

5'

5 ¾''

5.9 LB
Real time
+

02
visitor right now
| | |
| --- | --- |
| Type: | |
| Vendor: | |
| Length: | 4 feet, 6 feet, 8 feet, 10 feet, 12 feet, 14 feet, 16 feet, 18 feet, 20 feet |
| SKU: | LERS1-04 |
| Weight: | 2.0 lb |